PRICES ARE FOR PREMIER LOOP or 6" TAB COLLAR
ITALIAN GREYHOUND SIZE:(Up to 10.5") UPHOLSTERY/ANIMAL PRINT $12.00 LEATHER $14.00
WHIPPET COLLAR:(10.5-12.5") UPHOLSTERY/ANIMAL PRINT $18.00 LEATHER 22.00
GREYHOUND COLLAR: (12.5-16")UPHOLSTERY/ANIMAL PRINT $22.00 LEATHER 28.00
Email for prices on larger sizes and Postage prices (Which start at $3.50)
Other Ordering information and costs
For More Information EMAIL ME AT:
Color coordinated nylon slip and your choice of binding color.
1A: Every Earth tone color you can think of might be found in this collar where the colors form squares.
2A: Pink and Black Lattice
3A: Plum and Teal Diamond.
4A: Teals and Black
5A: Black and Teal geometric.
6A: Teal, Purple and Navy geometric pattern.
7A: Brown, black and tan geometric.
8A: Red, Navy and beige winged diamond pattern.
9A: Small grey, black and multi colored dot diamond pattern.
10A: Brown and rust geometric squares pattern.
11A: Blue brick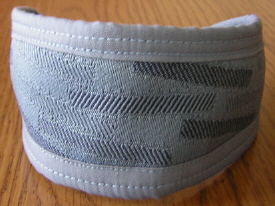 12A: Blue and Grey Geometric.
13A: Teal Shadow Box
14A: Peach Shadow Box
15A: Black and White Herringbone