PRICES ARE FOR PREMIER LOOP or 6" TAB COLLAR
ITALIAN GREYHOUND SIZE:(Up to 10.5") UPHOLSTERY/ANIMAL PRINT $12.00 LEATHER $14.00
WHIPPET COLLAR:(10.5-12.5") UPHOLSTERY/ANIMAL PRINT $18.00 LEATHER $22.00
GREYHOUND COLLAR: (12.5-16")UPHOLSTERY/ANIMAL PRINT 22.00 LEATHER 28.00
Email for prices on larger sizes and Postage prices (Which start at $3.00)
Other Ordering information and costs
For More Information EMAIL ME AT:
Color coordinated nylon slip and your choice of binding color.
1B. Triangles in Diamonds.
2B. Lovely Tapestry print of Blue, navy, red, green and black.
3B. Green Triangles in Diamonds
4B. Woven shades of blue.
5B. Lines of blue and white zig-zagging denim.
(Picture is showing black but darker color is navy.)
6B. Lime and gold brocade with dotted gold trim.
7B. Black velvet with Gold Medallions
8B: Red and black tapestry print
9B: Flowered tapestry print.
10B: Pastel Shell Print
11B: Wavy Burgandy and Navy.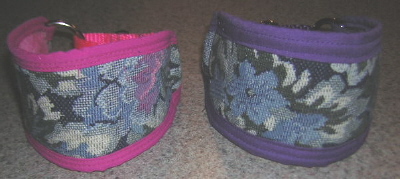 12B: Denim colored floral
13B: Tan and Black Faux Fur Herringbone print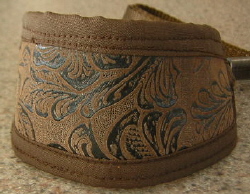 14B: Faux Leather Paisley
15B: Faux Leather Elephant